CPS Mersey-Cheshire keeps staff and stakeholders up to date on Hate Crime
The Crown Prosecution Service has been working hard to keep both staff and our partners in the Criminal Justice system up to date as part of Hate Crime Awareness Week.
CPS Mersey-Cheshire held lunch and learn sessions with staff to highlight several aspects of prosecuting this type of offending.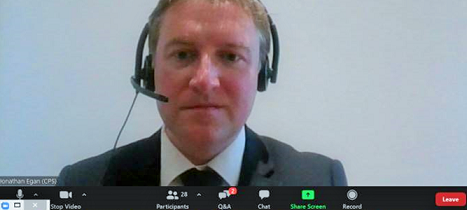 District Crown Prosecutor Jonathan Egan (pictured) is the Hate Crime Co-ordinator for CPS Mersey-Cheshire. He did two sessions with staff that covered:
What is a Hate Crime?
When would we flag a case in the system as Hate Crime?
Essential points for lawyers to consider when reviewing a potential Hate Crime case.
Important case law in this area
How the CPS seeks the sentencing uplift for Hate Crimes, and
How can we support victims and witnesses in these cases?
Jonathan said: "We have a lot of new staff and it has also been a while since existing staff have had Hate Crime training. 
"It was Hate Crime Awareness Week from 12 to 18 October so it seemed like a good opportunity to run some refresher courses.
"A mixture of legal and operational delivery staff joined the sessions which ran in the lunchtime and online.
"I got some really positive feedback. Staff said they got a lot out of them and found the sessions useful.
"I really enjoyed running them. We held them via MS Teams and I was able to speak to those on the course via my webcam and I could also share relevant documents with them."
Jonathan also ran an online Hate Crime refresher course for representatives from a variety of organisations outside of the CPS that are involved with Hate Crime.
Jonathan added: "It was a webinar on hate crime and the role of the CPS, delivered digitally to over 60 people from a range of local organisations and community groups.
"There were representatives from Liverpool City Council, Housing Associations and the various transport networks. A lot of Hate Crime is committed on public transport.
"I talked about our work in building, preparing and presenting cases, the different areas of hate crime, support for victims and witnesses, sentencing and answering any questions people had.
"The fact that this was all done online meant that people didn't have to travel and the session itself took just a couple of hours."