Cheshire man jailed for killing his three-month-old baby
A Cheshire man has been jailed for 13 years for killing his three-month-old baby daughter in a series of assaults from when she was born.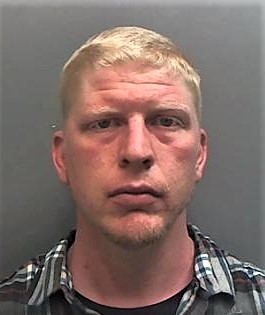 The Crown Prosecution Service (CPS) said that Anthony Miley, 33, brought about the death of Ivi Shore on 23 July 2020.
He lived with the baby's mother Stephanie Shore, 33, in a two-bedroomed flat in Berwick Close in Macclesfield. They also had a two-year-old son who slept in one bedroom. Ivi slept in a Moses basket beside their bed.
At 5am on 22 July 2020, Stephanie Shore, 33, rang 999 saying Ivi was listless and unresponsive. Paramedics arrived and found that Ivi was blue, unresponsive and clearly seriously ill.
She was rushed by ambulance to Macclesfield General Hospital where staff did a scan which revealed that Ivi had suffered a bleed on both sides of her brain.
Medics thought that Ivi needed intensive care if she was to survive and she was transferred to the Royal Manchester Children's Hospital.
Further scans there revealed fractures to the baby's ribs, bleeding behind her eyes and a fracture to the back of her neck.
The doctors suspected that the injuries were not accidental and asked her parents for an explanation but they said that she had simply seemed sick when she had woken for a feed at 3.30am. They had called an ambulance at 5am.
Ms. Shore said that Anthony Miley had got up to feed the baby at 3.30am and thought Ivi seemed upset and not very well but she had given them no real cause for concern.
Ivi died, despite the best efforts of hospital staff, the following day on 23 July 2020.
The scans had revealed old and new fractures and injuries dating back up to 12 weeks before her death. Shore and Miley were arrested after the baby's death but neither could explain how their daughter suffered such catastrophic injuries.
The CPS charged both Anthony Miley and Stephanie Shore with murder but the judge directed the jury to find Ms Shore Not Guilty.
The jury acquitted Miley of murder but found him guilty of manslaughter. He was sentenced to 13 years in jail on 4 August 2021.
Senior Crown Prosecutor Angie Rowan of CPS Mersey-Cheshire, said: "Ivi Shore was a healthy baby at birth and appeared to health professionals to be developing normally.
"The Crown Prosecution's case was that her death on 23 July was not the result of some undiagnosed condition. And it was not accidental.
"The jury have decided that Ivi died as a direct result of violence perpetrated against her by her father. Ivi Miley was subjected to violence on more than one occasion - her ribs had been broken 53 times.  Anthony Miley killed his defenceless three-month-old daughter who suffered awful violence in her very short life. A tragic case."