Cheat jailed for fraudulently claiming more than £1 million in benefits
A benefit cheat who used two identities to fraudulently claim more than £1 million in benefits has been jailed.
The Crown Prosecution Service said that Christina Pomfrey, 65, used this name and the name Christina Brown to fraudulently claim a wide range of benefits over almost 15 years.
At the peak of her fraud, Pomfrey was receiving more than £13,000 a month through the false benefit claims she was making.
She also 'laundered' £88,994.21 of the money over six years through the bank account of her daughter Aimee Brown, 34.
Pomfrey claimed a total of £1,010,090.66 in benefits including income support, housing benefit, disability living allowance and social fund payments.
On the forms Pomfrey justified her need for benefits by saying she had multiple sclerosis, was blind, and needed help with every aspect of day to day life. She added to these lies by using details of family friends and relatives, claiming they were providing care for her.
Using the last name Brown, she claimed from the Department of Work and Pensions as well as Halton Council. Then under the surname Pomfrey, she claimed for further benefits from the DWP and Oldham Council.
As DWP investigators moved in on Pomfrey, surveillance showed her driving, going for a walk while reading a newspaper, using a self-service checkout while shopping and collecting her grandchildren from school and taking them to a play centre. At no stage was she ever seen to use any form of walking aid.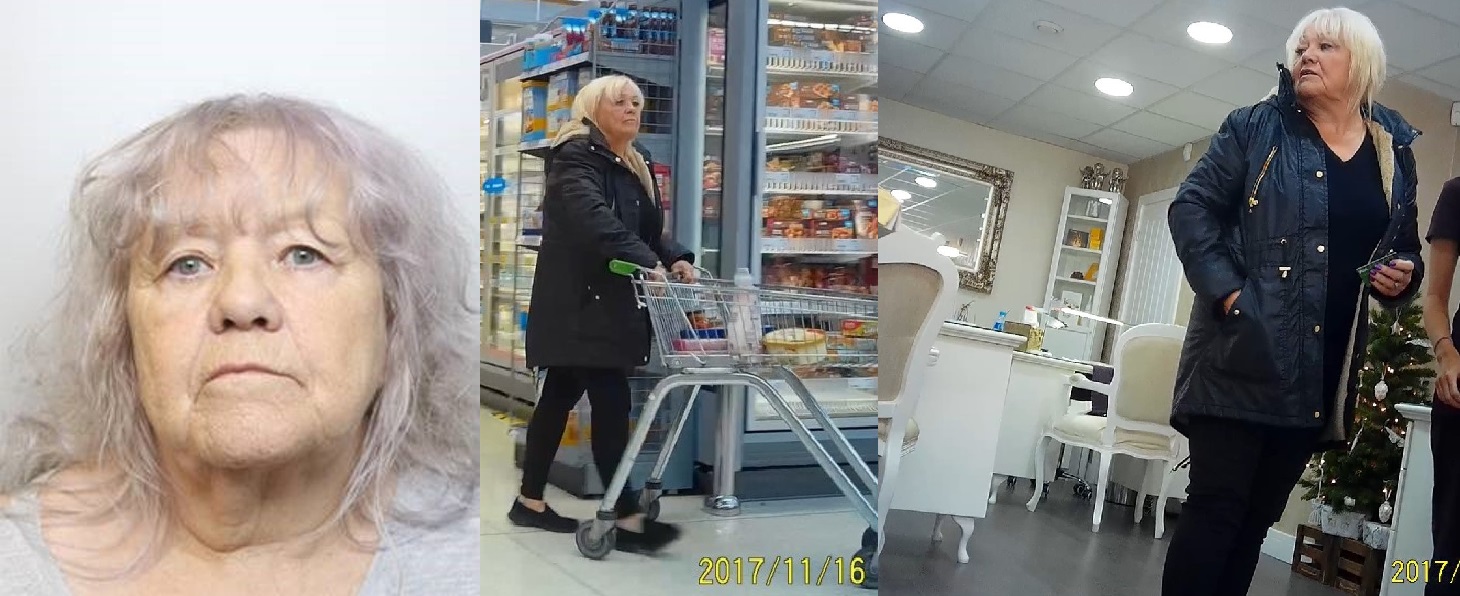 On 13 December 2017, police and DWP investigators arrested Pomfrey and when they searched both of her addresses found forged letters, documents and invoices.
While on bail for these offences, Pomfrey began another fraudulent claim for Universal Credit and falsely said she was living in a refuge for women who had suffered domestic abuse.
Between 2011 and 2017, £88,994.21 of DWP credits were paid into Aimee Brown's bank from claims made by her mother. Investigators discovered that, over six years, £18,075 of this was transferred back to Pomfrey and Aimee kept £70,919.21 for herself.
After pleading guilty on 16 March, Christina Pomfrey, was today (8 June 2020) sentenced to three years and eight months for 34 counts of fraud, false accounting and making or supplying articles for use in frauds. Aimee Brown was given an 18-month sentenced suspended for two years for money laundering.
George Ward of CPS Mersey-Cheshire said: "Christina Pomfrey is a shameless serial fraudster who has systematically cheated a system that is meant to help the most vulnerable in our society.
"She had no thought for the feelings of the people whose identities she used to make her false claims.
"Her lies became more elaborate as time went on and even continued despite her arrest for benefit fraud.
"This is one of the biggest social security and local authority frauds ever to be prosecuted by the CPS and I would like to thank the Department of Work and Pensions and Halton and Oldham Councils for their help in bringing this prosecution.
"The Crown Prosecution Service has worked through hundreds of documents and pieces of evidence to build a strong case against Pomfrey and her daughter and as a result, they both pleaded guilty.
"By securing a vast amount of evidence and leaving Pomfrey and her daughter no choice but to plead guilty, we have saved the public purse from even more costs as a result of these fraudsters."
Ed Dawson, Operational Director of Finance at Halton Borough Council, said: 'Mrs. Pomfrey went to extraordinary lengths in order to commit and conceal her fraud for a number of years.
"However, Halton Borough Council took robust action in order to stop this fraud, secure a prosecution and to protect public funds provided by the local taxpayer. The Council has a zero tolerance attitude towards fraud and will not hesitate to take similar action against anyone else who is found to have committed fraud against it.
"This particular fraud involved the deliberate diversion of public money away from its intended purpose of supporting vulnerable people in the community.
"Fraud against the Council makes every resident in the borough a victim of fraud. Every pound stolen means that there is less money available to provide critical public services to the people of Halton."
Minister for Welfare Delivery, Will Quince said: "Benefit fraud is a crime that diverts money from those who really need it.
"We have zero tolerance of anyone fraudulently claiming benefits and this sentence sends a clear message to anyone attempting to cheat the system. When we suspect fraudulent activity we take swift action to investigate and support our partners and prosecutors to bring them to justice."
Notes to editors
In the name Christina BROWN

Income Support - 27/3/2006-19/6/2013 - £22,564.59
Employment & Support Allowance - 3/7/2013-16/12/2017 - £14,825.36
Disability Living Allowance - 3/7/2007-16/12/2017 - £71,432.82
Independent Living Fund - 19/9/2011-25/6/2015 - £92,963.60
Social Fund - 23/11/2002-16/12/2017 - £450.00
Direct Payments - 29/5/2007-16/12/2017 - £188,825.25
Housing Benefit - 11/4/2005-16/12/2017 - £51,310.81
Council Tax Benefit - 1/4/2005-31/3/2013 - £7,225.93
Council Tax Reduction - 1/4/2013-18/1/2018 - £4,236.61
Universal Credit - 18/1/2018-23/1/2020 - £8,794.06

In the name Christina POMFREY

Jobseekers Allowance - 1/2/2006-15/3/2006 - £425.52
Income Support - 16/3/2006-24/6/2013 - £59,277.01
Employment & Support Allowance - 25/6/2013-16/12/2017 - £43,729.25
Disability Living Allowance - 29/3/2006-16/12/2017 - £76,695.00
Independent Living Fund - 1/10/2007-25/6/2015 - £160,340.21
Social Fund - 3/7/2006-16/12/2017 - £2,203.48
Direct Payments - 10/6/2006-16/12/2017 - £199,881.26
Housing Benefit - 11/4/2005-16/12/2017 - £51,310.81
Council Tax Benefit - 1/4/2005-31/3/2013 - £7,225.93
Council Tax Reduction - 1/4/2013-18/1/2018 - £4,236.61
Universal Credit - 18/1/2018-23/1/2020 - £5,260.19