University student first to be jailed for manufacturing a firearm with a 3D printer
A South Bank University student is the first person in the UK to be convicted and imprisoned for possessing unlicensed firearms made with a 3D printer.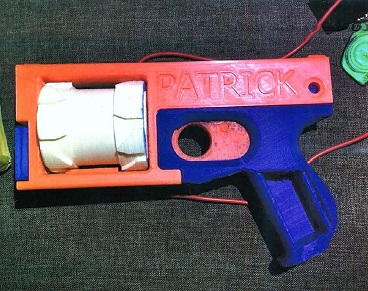 Tendai Muswere, 26, was jailed for a total of three years today [Thursday 19 September] at Southwark Crown Court after previously pleading guilty to two counts of manufacturing a prohibited firearm and two counts of possessing a prohibited firearm.
Muswere had claimed the firearms were props for a sci-fi film he was making for a university project. He added that he had found the ammunition rounds in a park.
Police had searched Muswere's home address on the Lillington Gardens Estate in Pimlico on two separate occasions owing to his known links to cannabis cultivation. They found two 3-D printers that were in the process of printing a barrel of a revolver and numerous components for making Washbear and Reprringer firearms. On the second occasion Muswere threw an incomplete and melted 3-D printed cylinder for a Reprringer pepper-box handgun out of the kitchen window as police forced their way inside.
Firearm experts found that the only parts missing for many of Muswere's 3-D firearms to work and become lethal weapons were the steel tube sleevings needed to cover the handguns. However, evidence collated as part of the investigation found Muswere had repeatedly searched for these on the internet.
Claire Holder, from the CPS, said: "Muswere claimed that the firearms found in his flat were made for a university film project and were incapable of firing deadly shots. However, he was using 3-D designs found on the internet which were specifically for the making of live firearms. Evidence also showed that he had made repeated attempts to print the weapons, which we believe showed that he was trying to perfect a workable firearm.
"It is illegal to manufacture or possess prohibited weapons without a licence. This was the first prosecution of its kind in the UK and we hope it serves as a warning to anyone who is considering possessing and manufacturing firearms."
Notes to editors
Tendai Muswere [DOB: 24.04.1993] is from Pimlico in the London borough of Westminster.
He pleaded guilty on 19 June at Southwark Crown Court to:

possessing a prohibited firearm contrary to the Firearms Act 1968
possessing a prohibited firearm contrary to the Firearms Act 1968
manufacturing a prohibited firearm contrary to the Firearms Act 1968
manufacturing a prohibited firearm contrary to the Firearms Act 1968

He was given three years for each count all to run concurrently.
He was given a 12-month conditional discharge on 2 February 2018 at Westminster Magistrates' Court after he admitted two counts of producing cannabis plants on 24 October 2017 and 1 February 2018 – the dates of the above police search warrants.
Claire Holder is a Senior Crown Prosecutor for CPS London South.