Man who taunted woman with racially abusive Whatsapp messages handed longer prison sentence
A man who taunted a woman with racially abusive comments over Whatsapp has been sent to prison for 24 weeks after a court agreed with the CPS that he had committed a hate crime and gave him a longer sentence.
Graham Bolger, 23, of Hounslow, was told he would have been jailed for a total of 16 weeks by Uxbridge Magistrates' Court on Tuesday (9 January) but his sentence was 'uplifted' by two months to fully reflect the racist nature of his messages.
He had admitted two offences of intentionally causing harassment , alarm or distress which was racially or religiously aggravated.
Hate crimes such as this which are racially or religiously aggravated are eligible for an enhanced sentence to take account of the race/religious aggravation.
Crimes that are motivated 'wholly or partly' by hostility or demonstrate towards the victim of the offence hostility based on that person's presumed sexual orientation, transgender identity or disability are also eligible for an increased sentence.
Bolger had sent messages to the woman in Feltham between July 2017 and November 2017 making racially abusive comments about Turkish people, talking about killing Muslims and Muslim children, and claiming to be a Nazi.
Prosecutor Joyce Kerrins, from the CPS, said: "Graham Bolger's conduct was made worse by his racially abusive comments.
"Where a hate crime has been committed the CPS will always apply to the court to apply the law and give an 'uplifted' sentence which properly fully reflects the nature of the crime.
"The evidence provided by the prosecution, following a thorough police investigation, included social media messages and witness testimony and was pivotal to him pleading guilty to his crimes.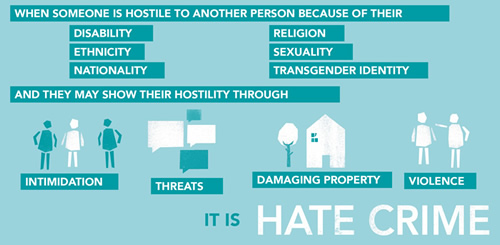 Notes to editors
Graham Bolger pleaded guilty to two offences of intentionally causing harassment, alarm or distress which was racially or religiously aggravated contrary to section 31(1)(b) of the Crime and Disorder Act 1988  between 1 July 2017 and 23 November 2017
Joyce Kerrins is a District Crown Prosecutor in CPS London North
For more on hate crimes see our #hatecrimematters campaign page.
For CPS London North or CPS London South media enquiries call the London press office on 020 3357 0087, 020 3357 1994, or email london.communications@cps.gov.uk
If you are a member of the national media, please call the CPS Press Office on 020 3357 0906 or email cps.pressoffice@cps.gov.uk
For the latest in breaking news from the CPS Press Office follow @cpsuk on Twitter