Gang convicted of violent attack which saw corrosive substance squirted at bystanders
UPDATE: The nine men were sentenced on 17 January 2019 as follows:
Onel – 20 years extended sentence in total
Ardic – 17 year extended sentence
Tegegac – 17.5 yr extended sentence
Ulas – 30 months imprisonment
Serkan Kiziltan – 18 months imprisonment             
Mustafa Kiziltan – 27 months imprisonment + 9 months driving consecutive (total 36 months)
Kaygisiz – 22 months imprisonment + 6 months for offence of conveying items into prison (total 28 months)
Erdogan – 18 months suspended for 2 years
Adakan - 18 months suspended for 2 years
Nine men have been convicted of carrying out a violent attack which saw a corrosive substance squirted at bystanders trying to stop a street assault.
The attack took place in the early hours of 6 May 2018 in Dalston, east London. Three men were convicted on 21 November after a trial at Wood Green Crown Court. Six others admitted violent disorder at earlier hearings.
It began when they attacked an unknown man, stamping and kicking him as he curled up in a ball on the ground, covering his face with his arms. He escaped and has not been identified.
The gang then violently attacked a passer-by who had started to film the assault on his mobile phone.
Huseyin Onel, 24, squirted a corrosive substance from a plastic bottle into his face and eyes, as well as spraying others who became involved in the three-minute melee.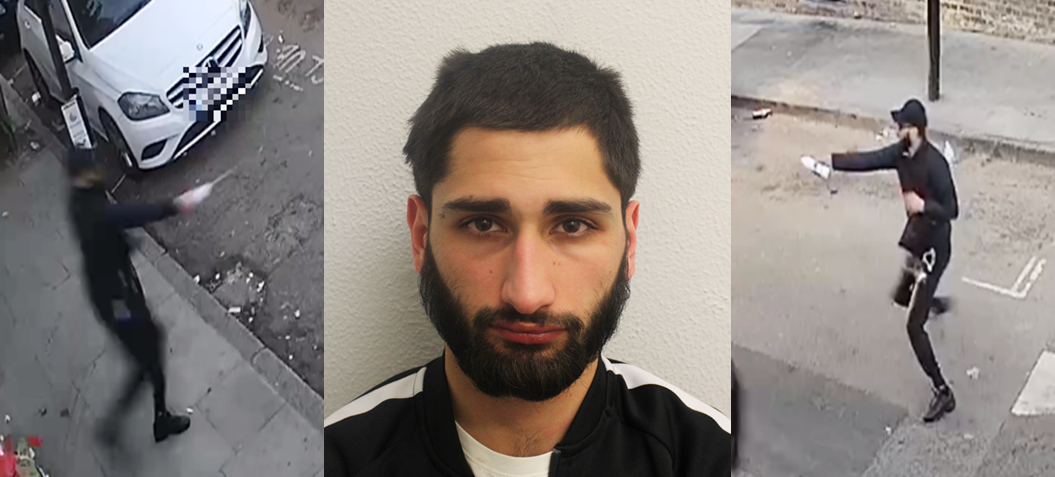 The other men also used serious violence against a number of people. After the attack homophobic abuse was shouted at their victims from the window of a car driven away from the scene.
The CPS successfully applied for witnesses in this trial to give evidence from behind screens so they were hidden from the defendants.
Karen Dubarry, of the CPS, said: "Each of these men played some part in the violence carried out on that day.
"The CPS was able to prove that Huseyin Onel sprayed a liquid into eyes and faces, while covering his own face which was a clear sign he knew what he was spraying was very dangerous.
"Those others who knew he was carrying a corrosive substance and intended to use it are equally culpable for his actions.
"If you throw acid or ammonia you will face conviction and a very serious prison sentence."
The men will be sentenced on 17 December 2018 at Wood Green Crown Court.
Notes to editors
Karen Dubarry is a Senior Crown Prosecutor in CPS London North
Huseyin Onel [DOB: 30/03/1994] found guilty of violent disorder, seven offences of applying a corrosive fluid with intent to burn, maim, disfigure or disable
Onur Ardic [DOB: 02/11/1991] admitted violent disorder, found guilty of applying a corrosive fluid with intent to burn, maim, disfigure or disable
Mehmet Tekagac [DOB: 03/09/1988] admitted violent disorder, found guilty of applying a corrosive fluid with intent to burn, maim, disfigure or disable; robbery of a bag.
Guven Ulas [DOB: 21/12/1998] admitted violent disorder
Mustafa Kiziltan [DOB: 10/09/1988] admitted violent disorder
Serkan Kiziltan [DOB: 03/11/1996] admitted violent disorder
Turgut Adakan [DOB: 20/06/1995] admitted violent disorder
Yasam Erdogan [DOB: 24/11/1994] admitted violent disorder
Umit Kaygisiz [DOB: 26/12/1997] admitted violent disorder