Four convicted of David Gomoh murder
Four Newham gang members who killed a NHS worker while on a 'ride out' to a rival gang's area have today been convicted of murder.
David Gomoh, 24, who had no links to any gangs, was killed in the random attack shortly after leaving his home in east London, on the evening of 26 April last year, at the height of the first pandemic lockdown.
Vagnei Colubali, 23, David Ture, 19, Muhammad Jalloh, 19, and a 17 year-old boy - members or associates of a gang that operates in the north of Newham - drove to rival territory in the south Newham area that evening prepared to 'inflict serious and fatal injury', the prosecution told a jury at the Old Bailey.
For this so called 'ride out to the opp block' they had arranged for a stolen Dodge Caliper to be parked the previous evening in preparation, and went equipped with knives and a change of clothes. They had also turned off their phones to evade police detection.
They drove around looking for potential targets and spotted Mr Gomoh at Freemasons Road, E16. He was on the phone to his girlfriend when he was approached by three of the four defendants and was stabbed ten times in a frenzied attack. Mr Gomoh died shortly after of catastrophic injuries.
DNA evidence, CCTV and drawings of before, during and after the attack made by Ture, elements of which helped identify some of the other killers, were used to secure their conviction.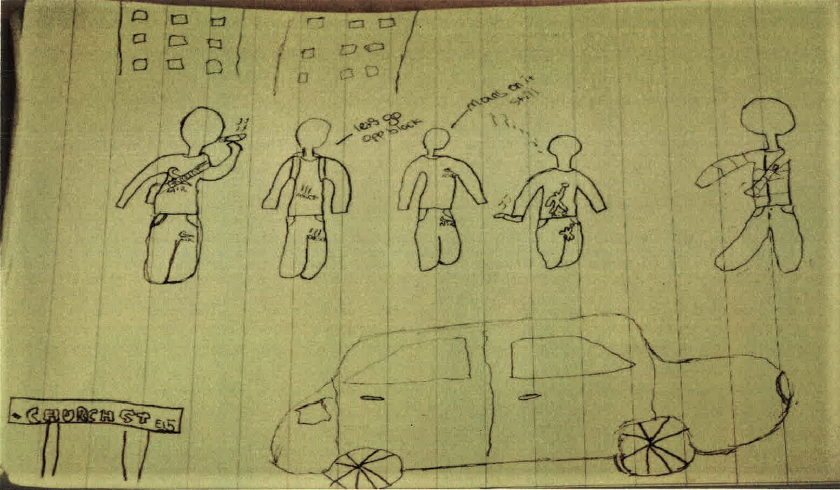 Ture's 'childish doodles' were recovered by the police in his bedroom drawer and showed the group at 'Threemasons (sic) Road' – the location of the killing. They also showed one of the gang members with an Armani man bag, which Colubali was seen wearing on CCTV.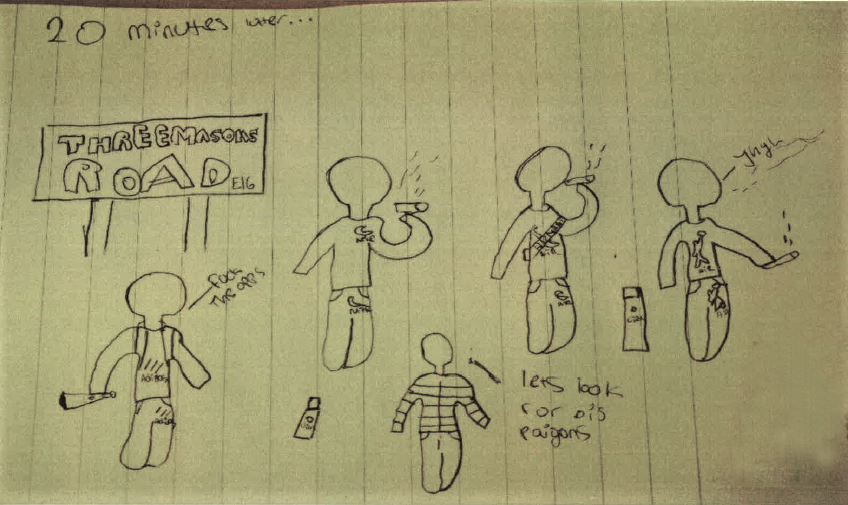 The prosecution also relied on DNA evidence – which included the discovery of Jalloh's DNA on sunglasses recovered from the back seat of the Dodge and the 17-year old's DNA and David Gomoh's blood upon sunglasses found at the scene of the attack. Both sunglasses belonged to the female owner of the stolen car.
All four will be sentenced on 17th September for murder and a further charge of conspiracy to commit grievous bodily harm related to an earlier failed attack.
CPS lawyer Louise Attrill said: "This case has highlighted a very stark reality of the tragedy that ensues from so called postcode killings and gang rivalries. These individuals planned to kill anyone they came across who they believed was from the opposing gang. David Gomoh was tragically caught in the middle of this senseless feud and, despite having no connection with gangs, was killed without hesitation or mercy.
"These defendants continue to show no remorse for their actions, claiming mistaken identity or providing no defence at all, but the prosecution has systematically exposed them as liars. They were all part of a co-ordinated group that set out looking to maim and kill.
"The impact and fallout of this senseless killing - simply to prove their allegiance to a gang - is far reaching. Their victim's family and friends are left grieving from the loss of an innocent young man who had a promising future ahead. Our thoughts remain very much with them at this time and, while nothing can bring David back, we hope these convictions provide some comfort to them."
Notes to editors
Vagnei Colubali (DOB: 18/01/1998) is from Cambridge
Muhammad Jalloh (DOB: 05/12/2001) is from Pinner 
David Ture (DOB: 09/10/2001) is of no fixed abode
The 17 year-old boy (DOB: 16/09/2003) is from Telford
Louise Attrill is a Senior Crown Prosecutor within the London CPS Homicide Team.