Teenage arsonist sentenced after attacks on schools and churches
A teenager who repeatedly set fire to schools and historic churches causing millions of pounds of irreparable damage has been sentenced.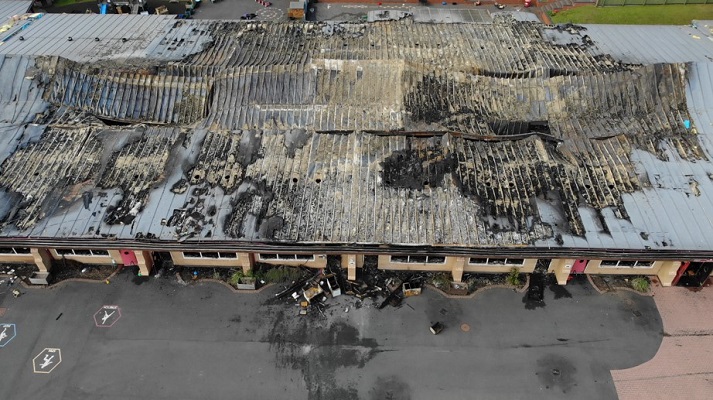 The Crown Prosecution Service (CPS) said that Johnny Brady, 19, set fire to various schools and churches throughout Derbyshire between 1 October and 3 December 2020.
Brady was eventually identified following an extensive police investigation which involved CCTV enquiries, forensic evidence and reconstructions.
His first target was Murray Park School in Mickleover, Derby in the early hours of 1 October 2020. He broke in through a window, caused extensive damage to a science room and left a note saying "FXXX you."
He then set fire to St Mary's Roman Catholic school in Derby in the early hours of 3 October. The fire took the emergency services 12 hours to bring under control and the building was eventually declared structurally unsafe. The school is expected to take two years to rebuild, at a total cost of £8 million. The children had to be moved to two other schools causing further disruption to their education.
The financial director of the school said in a statement: "A fire like this would have hit our school community hard at any time but this was particularly devastating as it came so soon after children had returned to school following a lengthy lockdown period. Young children of primary age, who were already under strain due to lengthy periods away from school, struggled to process what had happened to their school - a safe and happy place for so many of them." 
He targeted Ravensdale School in Mickleover, Derby in the early hours of 5 October. The damage caused meant the school had to be demolished. A new school is being built at a cost of millions of pounds. The children had to be home schooled for a month and school meals taken to their homes by the staff from school. They were then split across four schools and the costs to transport them to those schools ran to £600 a day.
The Orangery Café Building in Markeaton Park in Derby was next, early on 6 October. Thousands of pounds were damaged in this attack.
St Matthew's Church in Darley Abbey was targeted on 15 October 2020. Again, thousands of pounds worth of damage was caused and the congregation and community were furious.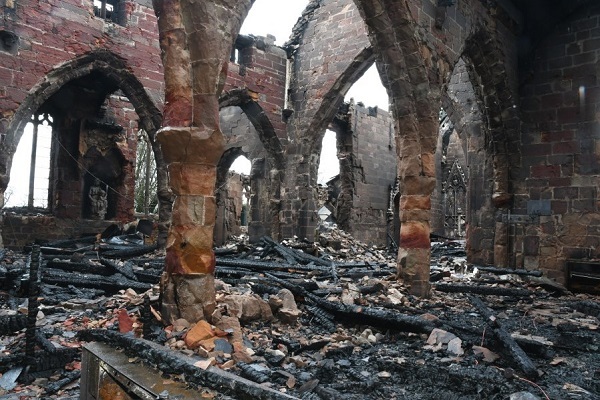 St Paul's Church at Quarndon was the next target. A member of the church's buildings committee noticed marks of soot when he attended on 16 October 2020. The police were called and, at the same time, Brady was spotted loitering in the grounds. He was later spotted in the grounds again and searched.  He was found to be in possession of a lighter. A pair of gloves were later recovered from under a bush in the churchyard with his DNA on them. He was questioned and released on bail.
A local resident called the police on 3 December when they spotted smoke coming from All Saints Church in Mackworth, Derbyshire. The fire crew arrived within a matter of minutes but the fire was well advanced and took several hours to bring under control. By that time, the entire of the inside of the building was damage by fire and heat, the roof had collapsed entirely, the internal columns and walls were cracked and damaged so much so that the building was declared unsafe to enter.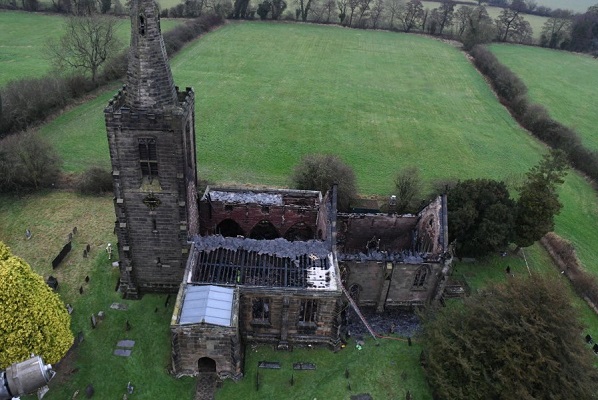 Extensive CCTV enquiries were made by the police in the wake of all of the fires which led them to the conclusion that the same person may be responsible for all of the attacks. A lone male wearing a large backpack was shown on many of the different clips to be riding to and from the different sites on a bicycle. The police made reconstruction videos using Brady's bike to show it was him.
On 3 March 2022, after an extensive and painstaking investigation by Derbyshire police, Brady was arrested for all of the arsons and charged. He pleaded guilty to the offences on June 30th 2022 and today (2 September 2022) at Derby Crown Court he was sent to a secure hospital for an indefinite period, due to the risk he poses to the public and of future offending.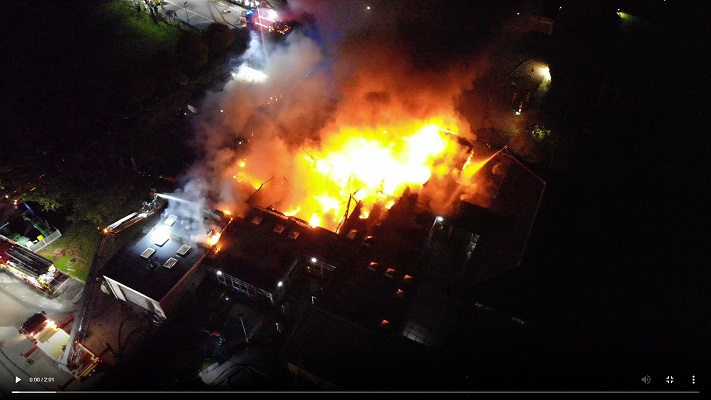 District Crown Prosecutor Sheryl Monk of CPS East Midlands said: "Johnny Brady has a predilection for fire. That predilection has led to millions of pounds of damage to buildings that local communities held dear. The damage was irreparable in many cases and that has led to anger, disruption and real sadness to many people.
"He has not expressed a moment of remorse or apology throughout this case. When he was committing these offences, he appears to have enjoyed knowing that these buildings were being destroyed. He continued his behaviour repeatedly with this aim in mind.
"On behalf of the Crown Prosecution Service, I would like to thank the police for an excellent investigation. Their work helped me in this prosecution and helped Counsel Katrina Wilson to present to the case to the court. Their meticulous work undoubtedly contributed to Brady's guilty pleas which meant we avoided a costly trial."