Prosecutors and police hold first regional domestic abuse conference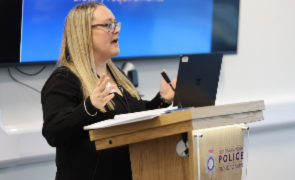 Prosecutors, police officers and other domestic abuse practitioners came together for the Area's inaugural domestic abuse conference to share best practice, increase police referrals and improve outcomes. 
Held at Nottinghamshire police's headquarters in Arnold, the conference attracted domestic abuse practitioners from across the East Midlands. Around 90 delegates in total attended the event to assess the current state of play with domestic abuse cases, explore some of the common problems we encounter and share solutions. 
As well as speakers from the CPS and our police partners, the conference also heard powerful presentations from a victim of domestic abuse who had lost his mother and sister to the actions of his controlling father. We also heard from Professor Jane Monkton-Smith, who outlined her research into domestic abuse risk factors and how they can escalate into the most serious offending.
The idea behind the event came from District Crown Prosecutor Laura Martin, the domestic abuse lead for CPS East Midlands. She said: "The purpose of this conference, which we hope will be the first of many, is to help secure as many successful outcomes as possible and increase the number of cases the police bring to us. 
"Domestic abuse cases are a huge part of our work as prosecutors - around 20 per cent of our entire caseload. We have a unique position in the East Midlands with our dedicated domestic abuse team. With all that expertise at our disposal we are well-placed to share that across our five partner police forces."
One of the main reasons for a prosecution not making it to a conclusion is victim attrition, where victims withdraw their support for a prosecution or decline to give evidence. So it was only natural that this was the theme for detailed work at the conference. 
Laura talked about the ways we can still build an effective prosecution in these circumstances, such as securing extra support for the victim through special measures or bringing a prosecution which is reliant on other evidence. These are know as evidence-led or suspect-centric prosecutions. Delegates at the conference discussed in detail the various areas of best practice in investigating these cases which are already happening in the region.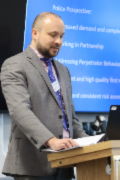 Detective Inspector Daniel Evans, of Nottinghamshire Police (pictured left), said: "Domestic abuse cases are some of the most serious and challenging crimes we are tasked with investigating.
"These are offences that have a profound impact on the lives of victims and their families – people who live in fear of physical and mental abuse by those closest to them.
"The police response to these issues has changed beyond recognition in recent years, but we realise there is still work to do to get the best possible results for victims and to ensure they are safeguarded.
"This event was a great way to bring together all relevant stakeholders in one room and work through the various problems we can encounter as investigators and prosecutors."
Laura added: "The day was very much about outcomes. Our hope is that we will be able to identify a series of tangible outcomes that make genuine improvements across the board. By working collaboratively we can do more to break the cycle of domestic abuse and bring even more offenders to justice."