Derby street robber guilty of manslaughter of 100-year-old woman
A man has today (13 February) been convicted of the manslaughter and robbery of a 100-year-old woman.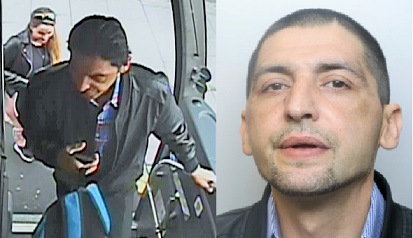 Artur Waszkiewicz, 40, denied responsibility for the death of Zofija Kaczan, who was attacked in the Normanton area of Derby on 28 May last year.
However, a jury at Derby Crown Court convicted him of both charges following a trial.
The court heard that Waszkiewicz approached Ms Kaczan from behind, hit her on the back of the head and pushed her to the ground. She suffered multiple injuries, including a broken neck.
He then stole her handbag and fled the scene. Following the robbery, it was found dumped a few hundred yards away at the junction of Moore Street and Normanton Road.
Ms Kaczan died on 6 June from pneumonia resulting from her injuries.
Waszkiewicz will be sentenced tomorrow, Thursday 14 February.
Lynsey O'Donnell, from the CPS, said: "The evidence in this case created a jigsaw that, when pieced together, showed no-one else could have carried out the attack. The CPS presented CCTV and mobile phone evidence to prove Artur Waszkiewicz was there at the time of the attack, evidence that he had stopped and got out of his car and that his behaviour afterwards showed he was hiding something more serious than finding a handbag.
"The court heard how he had cleaned and abandoned his car and changed his appearance before he left Derby in an attempt to avoid detection.
"The saddest aspect of this case is that an otherwise healthy lady has lost her life so that this man could satisfy his selfish desire for easy money. Mrs Kaczan was well known and well thought of within her community and all those who knew her are devastated by her tragic death. On behalf of the Crown Prosecution Service I would like to offer my sympathies to all those close to Mrs  Kaczan."
Building the case
The case against Artur Waszkiewicz was built on a few key pieces of evidence.
CCTV from close to the scene of the attack showed Mrs Kaczan leaving her house and walking towards the scene of the attack, a walk she was known to do on a regular basis. Other footage showed a car arrive at the scene, which was later linked to Artur Waszkiewicz's father through the insurance records.
Further analysis of the CCTV by detectives at Derbyshire police showed a reflection in a window of the car stopping and a figure getting out and crossing the road towards where Mrs Kaczan was walking.
CCTV shows:
First arrow - Reflection of Mrs Kaczan walking down the road
Second arrow - Waszkiewicz crossing behind his car and approaching Mrs Kaczan
Third arrow - Waszkiewicz crossing back behind his car, getting in and driving off
Mobile phone evidence showed that Waszkiewicz must have been driving the car and enabled the CPS to confirm the time he was at the scene of the attack.
A fingerprint on a receipt found in Mrs Kaczan's handbag showed that he had handled Mrs Kaczan's handbag. He did not deny taking it.
His behaviour after the attack, abandoning the handbag, running away to London and changing his appearance all suggested that he was trying to avoid being recognised as the attacker.
Linking these together, the CPS demonstrated that Waskiewicz's account that he had found the handbag and not been responsible for the attack were simply not plausible.
Notes to editors
Lynsey O'Donnell is a Senior Crown Prosecutor at CPS East Midlands