Dangerous driver who mowed down youths convicted
A man who drove at a group of people after a football match has been convicted of dangerous driving and eleven counts of attempting to cause grievous bodily harm at Newport Crown Court.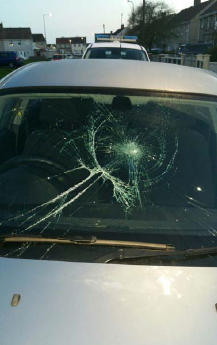 Lee Taylor, 36, had been playing in a football match between Cornelly Football Club and Margam Football Club which saw some spectators and players arguing during the fixture.
After the match Taylor became involved in a further altercation as he left the changing rooms, resulting in him driving his car towards a group of spectators. He collided with them causing a number of injuries.
Janine Davies of the CPS said "Lee Taylor used his car as a weapon, deliberately driving at the group.
"The CPS built a strong case from the witness accounts and mobile phone footage, showing how Taylor reacted to the situation.
"When cars are used as weapons the consequences can be devastating.
"We wish all those injured in this incident a speedy recovery."
Sentencing will take place in April.
Notes to editors
Janine Davies is acting Senior District Crown Prosecutor in CPS Cymru-Wales
Lee Taylor (DOB 04/10/1982) was convicted of Dangerous Driving; 11 x attempt to cause GBH.
The offences took place on the 19 April 2018.