Vengeful loner jailed for terrorism plot against his hometown
A white supremacist who was plotting a massacre at a football match in his hometown has today (30 April) been jailed for nine years.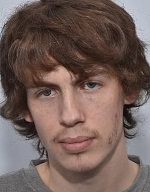 Shane Fletcher, 21, had spoken of his hatred of Workington in Cumbria and how easy it would be drive a van into people at the annual event attended by thousands.
A diary found under Fletcher's sofa contained written instructions on how to make a pipe bomb and improvised napalm, while one entry read: "On the 4th April [2018] Workington will be oblitrated [sic], everything and everyone will be destroyed."
Fletcher was convicted in January after a trial at Manchester Crown Court on offences of collecting information useful for terrorism and soliciting to murder after he unsuccessfully tried to recruit a friend to join him in the attack.
His defence was that he was nothing more than a "lonely attention seeker". But the CPS proved how Fletcher was motivated by a desire for revenge, including against Jewish and non-white people who he blamed for his isolated lifestyle and inability to find work.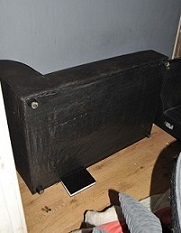 Fletcher had been referred to the government's Prevent programme nine months before he was arrested in March last year, after telling his probation officer he dreamed about "shooting up a mosque".
His mobile phone contained images of the Columbine High School killers – who he idolised along with Cumbrian mass shooter Derrick Bird – lying dead on the ground.
A spokesperson from the CPS 's Counter Terrorism Division, said: "Like the mass murderers he admired, Shane Fletcher wanted to achieve notoriety by committing a killing spree of his own.
"The court found this hate-consumed man to be a danger to the public and it is right he has been sentenced today to a lengthy spell in prison."
Building the case
Analysis of Fletcher's diary and Facebook messages to his friend – in which he shares links to violent snuff movies and describes the Columbine killers as "legends" – formed a central part of the Crown's case.
Messages in January 2018 show Fletcher talking of "knicking [sic] propane gas" to build "bombs" and encouraging his friend to "make your mind up" about joining him the attack – proving his murderous intentions were entirely serious.
A chilling diary entry written weeks before the planned atrocity read: "I have started this diary counting down the days to WM witch [sic] will be the most exciting day of my life I plan". The CPS said "WM" stands for Workington Massacre.
The CPS spokesperson added: "Fletcher tried to claim his actions were nothing more than a foolish fantasy but the prosecution proved the instructions for the explosives contained in his diary were viable and could have caused catastrophic damage had they ever been acted upon."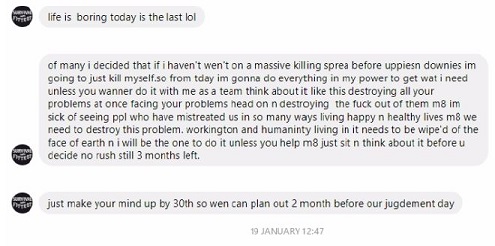 Notes to editors
Shane Fletcher (DOB: 31/10/1997), of Workington, was convicted on two counts of collecting or making a record of information of a kind likely to be useful to a person committing or preparing an act of terrorism and one count of soliciting to murder. He was sentenced to three years' imprisonment concurrent on the first two counts and nine years plus an extended sentence of four years on licence on the third