Tougher hate crime sentences at record levels
Courts are handing down tougher sentences in almost three out of four hate crime cases – the highest proportion ever, according to new figures published today (25 October).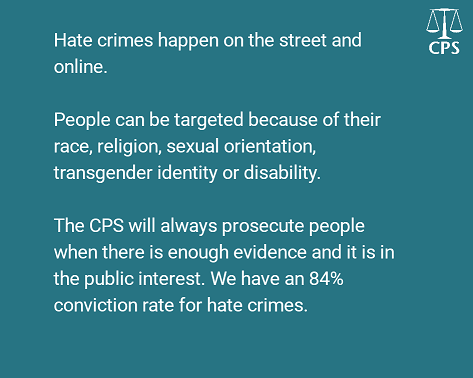 Courts in England and Wales have the power to increase a sentence if it is proven that the offence was motivated by hostility towards race, religion, sexuality, transgender identity or disability.
In the 12 months to March 2019 there were convictions in 10,817 hate crime cases with a record 73.6 per cent receiving a higher sentence, according to figures in the CPS Annual Hate Crime report. This is an increase from two thirds of cases last year, and 34.5 per cent in 2015/16.
Chris Long, Chief Crown Prosecutor and CPS national lead on hate crime, said: "All crimes have a terrible impact but when a crime is motivated by hatred of who a person fundamentally is, it adds another layer of seriousness.
"Hate crimes also affect communities and create a climate of fear.
"When cases get to court more than seven out of 10 defendants plead guilty and we have a conviction rate of 84 per cent - so there is every reason for victims to come forward.
"I urge people to report incidents to the police so we can hold offenders accountable and victims can have justice."
Prosecutors from the CPS apply for the sentence uplifts, which are declared in court at the time of sentencing. In the most serious cases, weeks, months or even years can be added to a sentence. An uplift can also result in criminals going to prison for a hate crime when they would have otherwise received a non-custodial sentence.
For example, in February a man who would have received a community order for using threatening words in public to cause distress was jailed for four weeks at Lincoln magistrates' court when he targeted a transgender woman.
Another man who shouted abuse at a disabled member of staff at a care facility for homeless people received a six week prison sentence instead of just four in August last year at Doncaster magistrates' court. The victim had cerebral palsy.
In both cases, the offender directly targeted the victims because of their personal characteristics.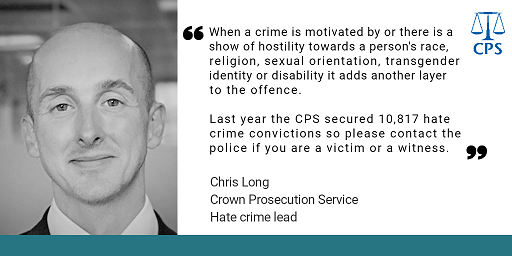 In the year covered by the report defendants pleaded guilty in 76 per cent of hate crime cases - the highest proportion ever - equating to 9,757 cases.
As with other types of crime there has been a growing gap between the number of hate crimes reported to the police and the number of cases being sent by forces to the CPS for a charging decision. Prosecutors are working closely with the police to understand the reasons for this fall.
The CPS also works with anti-hate groups including Stonewall, TellMAMA, Galop, and the Community Security Trust to help prosecutors better understand different types of hate crime and the impact on victims.
The relationship has been used to develop face-to-face training for all prosecutors which was rolled out between 2015 and 2018.
Highlights from the 2018/19 report covering April 2018 to March 2019
The CPS prosecuted 12,828 hate crime cases across England and Wales between April 2018 and March 2019.

10,817 (84.3 per cent) resulted in a conviction, broken down as:
9,757 guilty pleas (76.1 per cent)
1,012 convictions after trial (7.9 per cent)
48 proved in absence (0.4 per cent)

2,011 (15.7 per cent) did not result in a conviction, broken down as:

1,124 prosecutions dropped (8.8 per cent)
486 acquitted or dismissed after trial (3.8 per cent)
401 administratively finalised (3.1 per cent)

The highest ever proportion of hate crime cases have received a sentence uplift – 73.6 per cent compared to 67.1 per cent in 2017/18.
Most cases we prosecuted were for racial (9,931) and homophobic (1,624) hate crimes, followed by religious (605), disability (579) and transphobic (89) offences.
The 10 police force areas with the most hate crime prosecutions were:

London Police (Met and City of London combined) (2,521)
West Midlands (775)
British Transport Police (752)
West Yorkshire (691)
Greater Manchester (623)
Hampshire (433)
Merseyside (427)
Kent (361)
Thames Valley (355)
South Wales (334)