LGBT+ bullying and hate crime schools pack launched
"Hate incidents and hate crimes can have a devastating effect on the individuals and communities who are targeted for simply being who they are. Everybody has the right to live free of persecution, but hate crime tramples upon this right."
So said Chris Long, Chief Crown Prosecutor and CPS national lead on hate crime at the launch of a new LGBT+ Bullying and Hate Crime Schools Project pack.
The pack aims to protect potential victims by deterring would-be abusers and encouraging and supporting victims of identity based bullying to report incidents.
It has been developed by the CPS in partnership with a number of organisations, including Stonewall, the National Police Chiefs' Council, Gendered Intelligence and NASUWT.
It was launched at Thomas Tallis School in the London Borough of Greenwich on 21 January.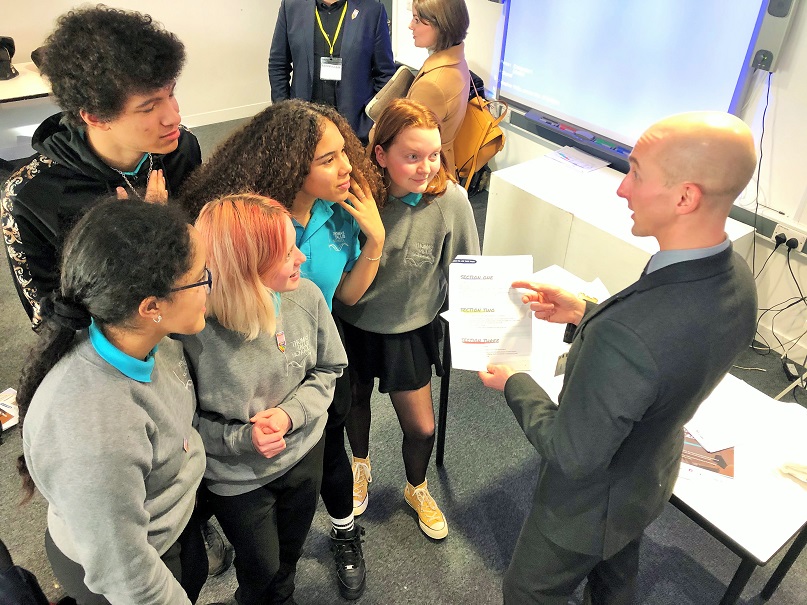 The resource pack for teachers of key stages 3 and 4 is an updated version of a pack first developed by the CPS in 2014. The original version was viewed 1,800 times a year and requested in hard copy over 1,000 times.
In the 2018 National LGBT Survey, almost half (40%) of respondents said they had experienced things such as verbal harassment or physical violence for being LGBT+. And 90% of the most serious incidents were not reported.
Such homophobic and transphobic abusive behaviour must not be normalised. It should be understood and treated for what it often is - a hate crime.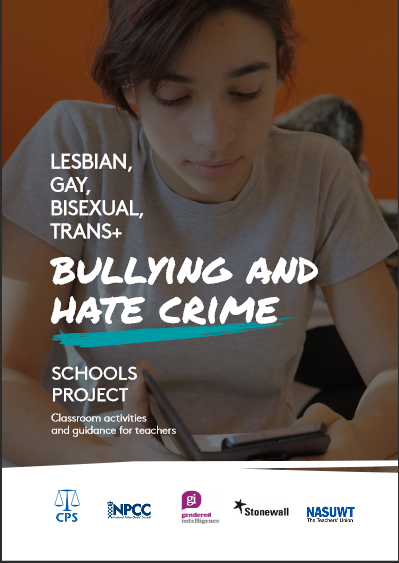 Chris Long, Chief Crown Prosecutor and CPS national lead on hate crime, said: "We know lots of hate crime isn't reported. We hope this refreshed schools pack can help to educate young people and support victims in reporting homophobic and transphobic abuse.
"Education and working with young people is key to tackling hate crime generally. This is not about prosecution of youths, but about prevention and educating future generations on homophobic and transphobic hate crime and supporting victims in reporting hate crime.
"I'd like to thank everyone involved in developing the LGBT+ hate crime pack and give special thanks to all of the students at Thomas Tallis for sharing their ideas and personal experiences and bringing the new materials to life."
A hate crime is:
"Any criminal offence which is perceived by the victim or any other person, to be motivated by hostility or prejudice, based on a person's disability or perceived disability; race or perceived race; or religion or perceived religion; or sexual orientation or perceived sexual orientation or transgender identity or perceived transgender identity."
The CPS takes hate crime very seriously, and is determined to hold those responsible to account. Last year, the CPS secured convictions in 84% of the hate crime cases it prosecuted and, due to the severity of hate crime, the courts increased the sentences handed down in 74% of these convictions. This sends a clear message that hate crime is a scourge on Britain and will not be tolerated.
The new pack contains an updated glossary of terms and an additional scenario and exercises to help students understand the impact of homophobia and transphobia and be aware of how to report hate crime and identity-based bullying.
Teachers and schools can download the pack from this website. This is a resource for schools, so a password is required to download the pack. This can be requested by emailing LGBTHatecrimeschoolspack@cps.gov.uk.