Hunting knife jihad plotter jailed
A teenager who planned to carry out a terrorist outrage in London using a hunting knife, or else use the knife to steal a Rolex to fund his travel to Syria has been sentenced to five years in prison today (28 June).
Haider Ahmed, bought a 15-inch hunting knife for £25 and had it delivered to his parents' home in Surrey where he was living.
He was prosecuted by the CPS Counter Terrorism Division who said Ahmed had viewed violent propaganda videos to prepare for an attack.
The videos included a Daesh-produced film he downloaded in June 2017 showing how to carry out a so-called "lone wolf" attack. It featured advice on where to stab someone and gave recommendations of the type of knife to use, which turned to be similar to the one in Ahmed's possession.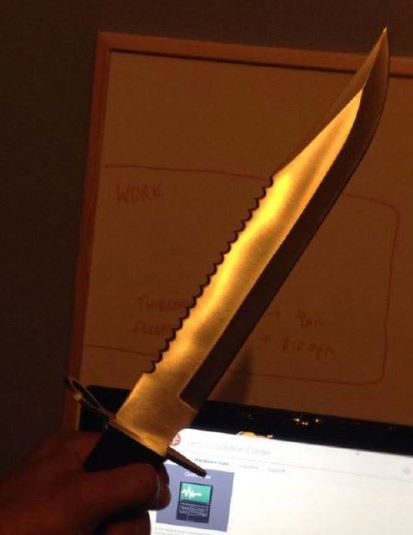 After his arrest Ahmed said he wanted the weapon because he had an interest in knives and was afraid of being hurt by a boy at his school. Police found no evidence to support that claim.
The CPS told Kingston Crown Court that Ahmed, who is now 19, had already pleaded guilty to helping a man in Nigeria get to Libya to fight for Daesh. In April 2016, after the man arrived in Libya, he sent Ahmed photos which the teenager had requested. Ahmed told him they both dreamed of going to the area to fight but the other got there first. It showed that Ahmed also wanted to travel.
Sue Hemming from the CPS, said: "Despite his young age Haider Ahmed is a committed supporter of Daesh and was prepared to carry out a terrorist act in the UK.
"He had a gruesome interest in violent images and enjoyed watching videos of people being shot and beheaded by Daesh.
"The prison sentence reflects the serious risk he poses but he can thankfully no longer act on his extremist world view."
Ahmed previously pleaded guilty to sending terrorist images to others which further showed his support for Daesh and their methods.
The images included screenshots from a Daesh propaganda video showing a bomb being used to behead a man in an orange jumpsuit. He sent a similar image months later to another person and explained, "some spy got beheaded". In August 2016 he sent images of a man being shot in the back of the head to a number of people and messaged, "Lool. Watching on TV HD lol".
The prosecution said this revealed not only Ahmed's callous disregard for terrorist killings but his extremist sympathies.
Notes to editors
The trial of Haider Ahmed (DOB 04/08/1999) from Redhill, Surrey took place at Kingston Crown Court. Overall he was given a five year prison sentence and one year on extended licence.
He was previously tried in October 2018 at Kingston Crown Court.
Before that trial Ahmed pleaded guilty to the following:

Four counts of dissemination of terrorist publication s2(1) and 2(2) (A) TACT 2006;
One count of collecting or recording information for terrorist purposes, s58(1)(A) TACT 2000; and
One count of engaging in conduct in preparation of terrorist acts, contrary to section 5(1)(b) of the Terrorism Act 2006. In relation to helping a man travel to Libya.

He was tried on one count of engaging in conduct in preparation of terrorist acts, contrary to section 5(1) of the Terrorism Act 2006.
The jury failed to reach a verdict and his retrial took place in February 2019. He was found guilty on 8 March.
Sue Hemming is Director of Legal Services at the Crown Prosecution Service.