Drugs baron jailed for 32 years over £40m cocaine and cannabis plot
A drugs baron who organised for £40m of cannabis and cocaine to be imported into the UK from Holland has been jailed for 32 years today (13 June) following a successful application by the CPS to bring him back to the UK to face trial.  
James Mulvey, 41, was found guilty of two charges of conspiracy to import cocaine and two charges of conspiracy to import cannabis following a trial at Birmingham Crown Court.
Mulvey was one of four bosses involved in transporting industrial rollers containing large quantities of cocaine and cannabis between the Netherlands and Ireland.
The rollers were initially taken to a yard in Belgium before another gang member would arrange for them to be moved to depots in Birmingham and Worcestershire, before being transported to Dublin where they would be unpacked and refilled.
There were 14 trips made by gang members before the operation was uncovered.
On the 14th trip, an employee at the depot in Belgium marked one of the rollers after he became suspicious about having seen the same rollers on multiple occasions. He alerted the authorities when he saw the same one again.
The rollers contained 20 blocks of cocaine, a cutting agent and 364 blocks of cannabis.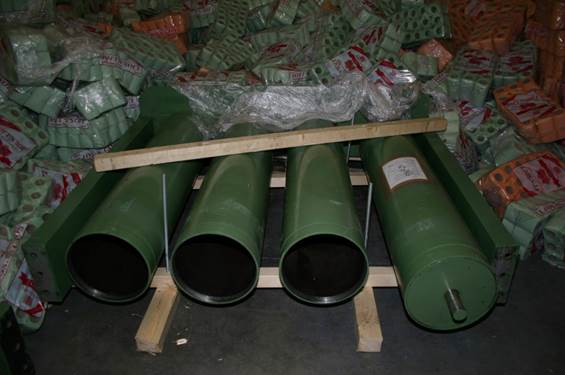 The offences took place between 2006 and 2007 and following a trial in 2009, five defendants were jailed for a total of 88 years for their roles within the enterprise.
Mulvey, who controlled the conspiracy using unregistered, pre-pay mobile phones, was not tried with his co-defendants because he had moved to Spain and refused to come back to the UK for the trial. He denied any involvement with either conspiracy.
However, Mulvey made admissions on covert recordings to being one of the four bosses involved in the conspiracies and he had the necessary contacts in Ireland to carry out the operation.
He used the money he made to fund an expensive lifestyle including the building of a luxury villa in Spain which he concealed by getting another person to purchase it in their name and then to administer it through a trust fund set up in Mauritius.
Mulvey was arrested by Lithuanian law enforcement officers acting on a European Arrest Warrant issued the same day on the application of the CPS as Mulvey had failed to surrender to bail that morning. He was subsequently brought back to the UK for trial.
Andy Young, from the CPS, said: "By refusing to return to the UK and remaining in Europe, James Mulvey attempted to evade justice for his role in a multi-million pound international drug smuggling operation after members of the gang had been jailed.
"However, thanks to close partnership working between the CPS, National Crime Agency and international law enforcement agencies, the prosecution was able to bring him back to face trial.
"The prosecution presented detailed evidence against Mulvey to the jury with the result he has been convicted for his actions and he must now serve a lengthy prison sentence."
Notes to editors
Andy Young is a prosecutor with the CPS International Justice and Organised Crime Division
James Mulvey was convicted of two counts of conspiring to import cocaine and two counts of conspiring to import cannabis following a trial at Birmingham Crown Court
A fifth count of conspiring to import cocaine was left to lie file after the jury failed to return a verdict.