Deputy head jailed for live-streaming child sex abuse via videoconference
A deputy headteacher who live-streamed children being sexually abused while high on cocaine and crystal meth has today (23 May) been jailed for 28 months.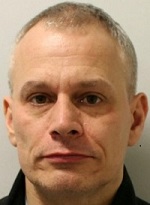 Paul Newbury, 50, regularly used the Zoom videoconferencing platform to view, discuss and distribute the most serious child sex abuse images – telling one user he was interested in 'all ages'.
Undercover officers infiltrated the chat rooms in October 2017 and filmed Newbury sitting naked on his sofa smoking drugs as he watched a live video of a girl aged around eight being abused.
Newbury was also a member of several closed paedophile groups on the secure messaging app Telegram, where he discussed and exchanged child abuse material with hundreds of other members worldwide. He invited fellow paedophiles to join obscene groups with names such as 'Love Boys'.
Newbury, who was sentenced at Southwark Crown Court, admitted making and possessing indecent images of children in March.  All of the illegal activity took place while he was working as an associate headteacher at a Camden secondary school, although the offences were not connected to his job.
Russell Tyner, CPS specialist prosecutor, said: "Paul Newbury was an active and prolific member of a global network of internet paedophiles committed to sharing live images of children being sexually abused.
"Some of these videos featured very young and vulnerable children in visible distress, which Newbury then shared widely for the twisted gratification of himself and others.
"The fact he helped fuel this industry while working as a teacher only adds to the grotesque and aggravated nature of the offence.
"As well as seeing Newbury jailed, the CPS today sought a Sexual Harm Prevention Order to ensure the clear threat he poses to children is minimised on his release."
Police raided Newbury's home in Wood Green in February last year and found two grams of crystal meth, 717mg of cocaine and two glass burning pipes.
The teacher, now sacked, had obtained almost five hours of material from Telegram between September 2017 and February 2018 – some of which he shared via Zoom using his alias 'north London'.
In total, 1,246 indecent images of children were recovered from his devices – 492 of which were classified under the most serious Category A.
Building the case
Newbury was brought to justice as part of an international operation that saw US and Canadian undercover agents deployed to Zoom chat rooms, which were being used to live-stream the sexual abuse of children.
This evidence was then used by the National Crime Agency and CPS to trace Newbury and ensure he faced the appropriate charges in an English court. CPS prosecutors worked closely with counterparts in the United States and Canada to enable the effective sharing of evidence and intelligence.
Russell Tyner said: "Online child sexual abuse is one of the most serious criminal threats we face and paedophiles all over the world are finding ever-newer technologies to perpetrate their offending.
"But, as this prosecution shows, the CPS and our international partners are determined to work together to bring abusers to justice whatever corner of the internet they hide in."
Notes to editors
Paul Newbury (DOB: 20/02/1969) admitted four counts of making indecent images of children, one of distributing indecent photographs of children, possession of a prohibited image, showing an indecent photograph of a child, possession of an extreme pornographic image and possession of Class A drugs at Highbury Corner Magistrates' Court on 19 March.
Russell Tyner is a specialist prosecutor with the CPS International Justice and Organised Crime Division
The ten-year Sexual Harm Prevention Order imposed on Newbury places strict conditions on his internet use and he will also need to forfeit his devices