Delivery driver who smuggled counterfeit cigarettes in pallets of grapes found guilty of tax evasion
A delivery driver who smuggled more than 8,000,000 untaxed cigarettes in pallets of grapes has been found guilty of tax evasion.
Milkos Sokorai, 48, claimed he was delivering grapes but when Border Force stopped his vehicle at the Port of Dover, they found more than 8,000,000 packets of cigarettes in the refrigerated trailer that he was attempting to smuggle into the UK.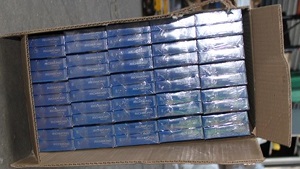 The amount of counterfeit cigarettes he was smuggling would have been worth almost £4 million, with £2.5 million tax due as a result.
Shilpa Chauhan, of the CPS, said: "This was a significant amount of cigarettes that could have cost the public purse a hefty £2.5 million in lost tax receipts.
"It is thanks to the hard work of the Border Force officers and HMRC that Sokorai was stopped in his tracks.
"The evidence from his phone and the documents gathered as part of the investigation have been essential to proving beyond doubt that Sokorai was willingly smuggling the cigarettes and evading tax."
When questioned, Sokorai provided documentation for the delivery and denied any knowledge of the illicit cigarettes found in the refrigerated trailer, insisting that he was set up.
However, the prosecution was able to use pictures that Sokorai had taken inside the trailer, as well as messages he had sent when he was stopped at the border, to show he knew the cigarettes were in the delivery.
The documentation that Sokorai had relied on was found to have been fraudulent, the specified destination company were not expecting a delivery and the company logo was unofficial.
After a short trial at Maidstone Crown Court, Sokorai has today been found guilty of fraudulent evasion of duty.
Notes to editors
Shilpa Chauhan is a Specialist Prosecutor in the Specialist Fraud Division at the CPS
Milkos Sokorai (14/11/1970) was found guilty of fraudulent evasion of duty, contrary to section 170(2) of the customs and excise