Couple must repay £10.4 million after ripping off struggling firms to live high life on yachts
A couple who made a fortune bankrupting companies to fund their lavish lifestyle have today been ordered to repay more than £10million.
David and Alison Mills splashed the £44 million they defrauded from struggling businesses on two yachts and a property empire that included a luxury villa in Majorca and a Gloucestershire mansion.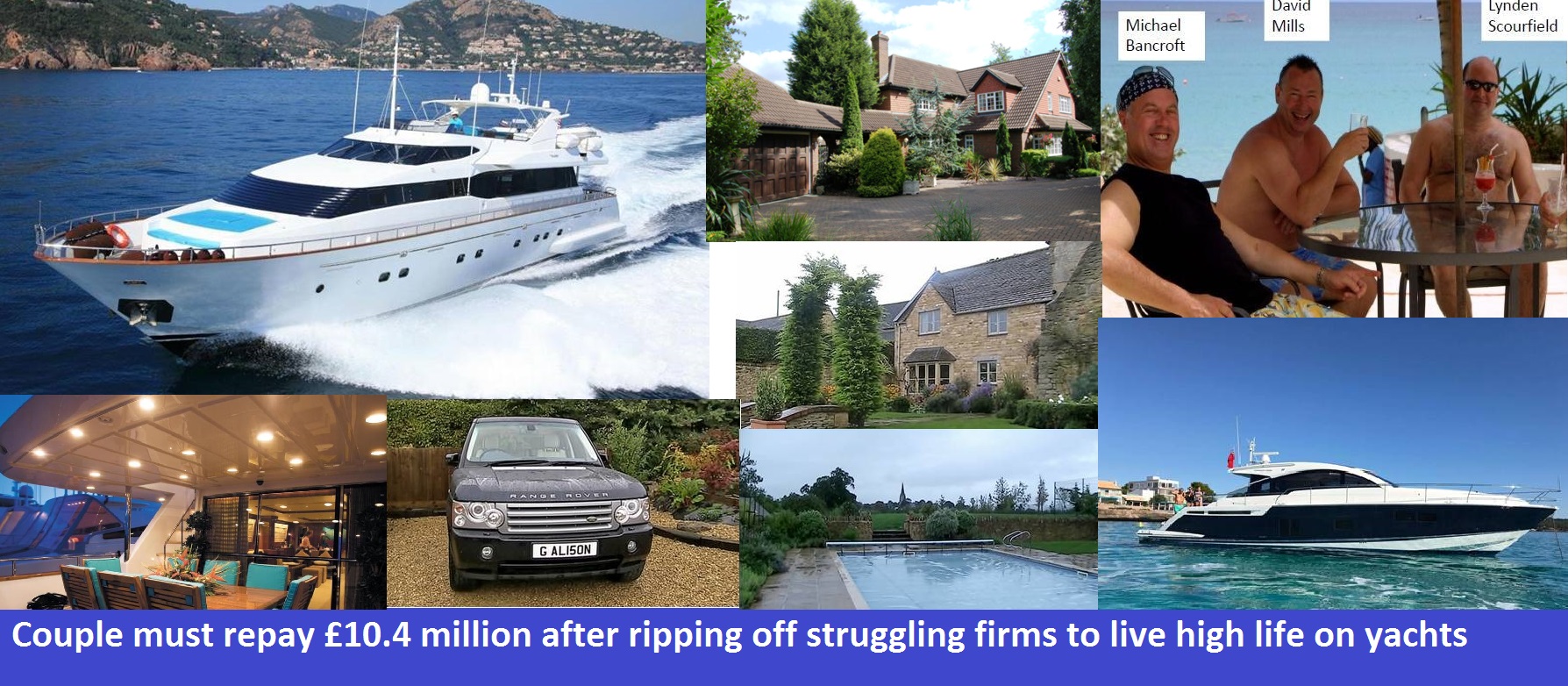 To sustain their corrupt operation, the pair bribed bank officials with escorts and holidays into encouraging clients to take out loans they could not afford.
Between 2003 and 2007, David Mills fronted a company that offered to help customers referred to him by Lloyds Bank out of financial difficulty.
As well as pocketing the bank referral fees, Mills with his colleague Michael Bancroft, 73, levied hefty charges for their services.
But instead of offering genuine assistance, they seized control of the failing firms and drained them of their assets. The pair would then sell them on and transfer the profits into their personal accounts.
The Mills worked alongside corrupt bank staff - who they lavished with luxurious trips to the Caribbean, expensive gifts and escorts - to ensure a steady stream of unsuspecting victims.
Helen Hughes of the CPS said: "David Mills is the epitome of a fraudster, taking advantage of people when they were in desperate need of help and bleeding them dry. They trusted him and he made matters even worse, using the last of their hard-earned money to buy extravagant trips abroad and luxury yachts."
David Mills was sentenced to 15 years in prison in January 2016 for fraudulent trading, conspiracy to corrupt and conspiracy to conceal criminal property, while his wife was jailed for three years and six months for conspiracy to conceal criminal property.
The couple have since had to sell their yachts, Powder Monkey and Wave Money, as they were unable to finance them from prison.
The CPS was able to prove that Bancroft, as well as David and Alison Mills had fraudulently obtained their wealth of funds and have brought the case forward under the proceeds of crime act to take back the money the couple gained through their illicit dealings.
Today, 12 September at Southwark Crown Court, David Mills was ordered to pay £5,649,940 and Alison Mills must find £ 4,802,009. If they fail to return these funds within three months they are likely to receive additional time in prison. The judge ordered that in default of payment David Mills could serve an additional ten years in prison, while Alison Mills could serve an extra nine.
Helen Hughes continued: "David and Alison Mills profited from the downfall of others but now they must face the consequence of their greed and pay back more than £10 million. While we cannot undo the harm they caused to so many through their parasitic plan, these confiscation orders will at least mean an end to the pair's opulent lifestyle."
Deputy Chief Constable Jason Hogg of Thames Valley Police, said: "I am incredibly pleased that these criminals continue to be confronted with measures to seize the gains from their substantial fraudulent activities to help guarantee they are appropriately punished.
"This group defrauded struggling businesses and gained significant sums of money and a lived a luxury lifestyle as a result of their fraudulent ways. It is vitally important that we use methods like this to ensure they are completely stripped of any remaining gains.
Detective Inspector Tom Bradshaw, from SEROCU's Economic Crime Capability, said: "We have a dedicated team of financial investigators who work tirelessly tackling criminals and their illegal profits"By continuing to target their assets we are ensuring that, not only are the offenders facing significant jail terms, but even when released they will not see the rewards of their criminal activity, which defrauded struggling companies of millions of pounds.
"This is a stark reminder to even the most fruitful criminals; not only will you be caught and brought before the courts, we will also seize any money and assets you've gained through criminal activity."
Notes to editors
Helen Hughes is a Specialist Prosecutor in the CPS Proceeds of Crime Service
Alison Mills (DOB: 13/05/1965)
David Mills (DOB: 7/12/1956)
On 30 January 2017 Michael Bancroft (DOB: 4/09/1943) was convicted of conspiracy to corrupt, three counts of fraudulent trading and one of conspiracy to conceal criminal property and jailed for ten years. Michael Bancroft is due to appear before Southwark Crown Court on  16 September, when it is expected that a Confiscation Order will be made against him.
On 2 February 2017, Lynden Scourfield, a former senior HBOS manager, was sentenced to 11 years and three months in prison for conspiracy to corrupt, four counts of fraudulent trading and conspiracy to conceal criminal property.  On 8 October 2018 he was ordered to pay £131,332.92.
On 30 January 2017 Mark Dobson (DOB: 11/12/1960) was convicted of conspiracy to corrupt and conspiracy to conceal criminal property and sentenced to 3 and a half years in prison.   On the 8 October 2018 he was ordered to pay £43,043.82.  
On 30 January 2017 John Cartwright (DOB: 18/12/1944) was convicted of fraudulent trading and conspiracy to conceal criminal property and sentenced to 3 and a half years in prison. On 8 October 2018 he was ordered to pay £640. 
More on Proceeds of Crime
Proceeds of Crime is a term given to the ill-gotten gains that an offender has benefitted from either directly or indirectly as a result of their criminal conduct.
The CPS has the power to restrain assets of a suspect even before they are charged, to prevent them being dissipated.
After conviction the CPS can ask the court to make a confiscation order.
The judge will consider two elements:
1.    The total financial 'benefit' that a defendant made from their criminal conduct.
2.    The total value of the assets the defendant currently has to pay their order - known as the 'available amount'.
When the available amount is less than the benefit amount, the defendant is only ordered to pay the amount they have available.
This can mean that even if the criminal benefited significantly from the crime, they may not have access to any assets; so the judge would order a minimal repayment (sometimes £1).
If a criminal has more assets than they owe the court, they will be ordered to pay the full benefit amount using their available assets, even if these are hidden from investigators.
When a defendant is ordered to pay their confiscation order and fails to do so within the time allowed by the court, they can face further jail sentence in default. However their debt remains outstanding and interest is added each day.
Where there remains a gap between the amount of their confiscation order and the total benefit figure, the CPS can ask the court to reconsider the matter and make a new order to confiscate these new assets up to the amount of the total benefit of their criminality.
In the last five years over £15m has been raised by the reconsideration of confiscation orders.