Couple jailed for bomb factory at home
A couple have been jailed today after pleading guilty to having explosives at their home including one of the same type used in the Manchester Arena bombing in May 2017.
Edward Harris, 27, and his partner Natalie Parsons, 51, from Cardiff admitted two counts of possessing explosive substances. Harris pleaded guilty to making both of them using terror manuals he found online.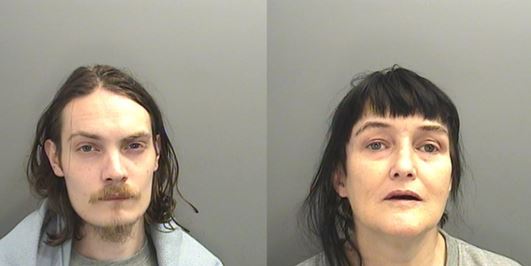 When police arrived at their home in August this year Harris told them: "There is something in the fridge. When you set it alight it goes poof." A forensic expert said both were extremely sensitive and unstable explosives which could easily be detonated by a spark or friction.
They had earlier pleaded guilty to possessing triacetone triperoxide (TATP) which was stored in their fridge.  This type of explosive substance was used in the improvised bombs detonated by Salman Abedi at Manchester Arena on 22 May 2017 and by the London 7/7 attackers in 2005.
Another homemade explosive, hexamethylene triperoxide diamine (HMTD), was found in a preserving jar in their garden shed. Products to make both were found throughout the house and in the shed.
Harris also admitted possessing terror manuals including one that gave advice on how to make TATP. The manual contained simple explanations and illustrations to allow a non-expert to make the items.
Another manual on explosives covered the making and use of 166 explosive compounds. It was a laboratory manual broken down into easy to understand chapters starting with basic chemistry and leading up to the preparation of the explosives themselves.
Harris was sentenced to a total of five years and Parsons received a two year prison sentence at the Old Bailey on 21 December.
The prosecution case was that while Harris was not a terrorist he had a number of items that would be useful to a terrorist. Although there was no identified victim there was a danger to those living at the property and to their neighbours.
Jenny Hopkins from the CPS said: "Edward Harris used terror manuals and turned his home into a bomb factory with the help of Natalie Parsons.
"The prosecution told the court that their actions posed a serious danger to their neighbours and to themselves.
"Their prison sentences will keep the public safe."
Notes to editors
Edward Harris (dob 31/03/1991) pleaded guilty to eight counts:

making an explosive substance, contrary section 4 of the Explosive Substances Act 1883 x2
possession of an explosive substance, contrary section 4 of the Explosive Substances Act 1883 x2 (along with Parsons).
possessing material likely to be useful to a person committing or preparing an act of terrorism, contrary to section 58 of the Terrorism Act 2000 - x4

Natalie Parsons (dob 16/03/1967) pleaded guilty to two counts:

possession of an explosive substance, contrary section 4 of the Explosive Substances Act 1883 – x2 (along with Harris).

Jenny Hopkins is the Head of the Special Crime and Counter Terrorism Division in the CPS.