CPS Lawyer Recruitment Campaign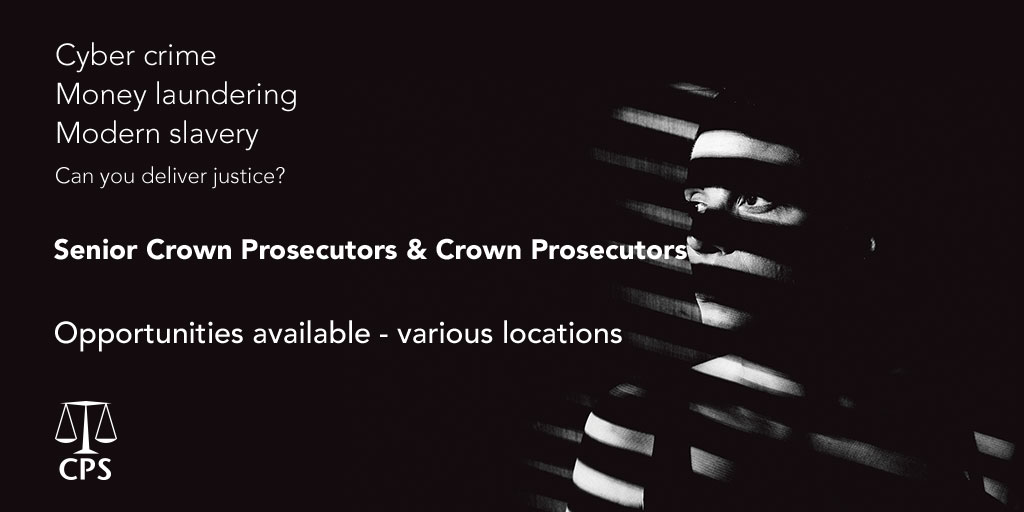 Are you a lawyer looking for a change of direction? Or are you looking to progress your career? As a Crown Prosecutor or Senior Crown Prosecutor for the Crown Prosecution Service you will be responsible for delivering justice through the independent and effective prosecution of crime.
We are looking for lawyers who want to make a real difference and play a key role in securing justice for the victims and witnesses of crime.
Iain Jordan, Senior Crown Prosecutor, says, "Although I joined as a Crown Prosecutor, I have recently been promoted to a Senior Crown Prosecutor which has been an endorsement of confidence in my ability and has justified my decision to leave private practice."
In return for your commitment and expertise, we offer real opportunities to develop and progress your legal career with a wide range of benefits available, including flexible working, civil service pension scheme, access to employee savings including high street retailer offers and discounts and 25 days leave, rising to 30 days after five years' service.
If you are committed to public service and are looking for a role at the very forefront of delivering justice, you can apply now for vacancies in various locations.
Current prosecutor vacancies:
Senior Crown Prosecutor - CPS Mersey-Cheshire (6 posts)
Legal - Liverpool
Salary: £46,228 - £54,789
Closing date: 23 April 2019
Crown Prosecutor - CPS Mersey-Cheshire (6 posts)
Legal - Liverpool
Salary: £38,00 - £42,000
Closing date: 23 April 2019
Senior Crown Prosecutor - CPS West Midlands (1 post)
Legal - Birmingham or Stoke
Salary: £46,228 - £54,789
Closing date: 23 April 2019
Crown Prosecutor - CPS West Midlands (1 post)
Legal - Birmingham or Stoke
Salary: £38,00 - £42,000
Closing date: 23 April 2019
Senior Crown Prosecutor - CPS South East (10 posts)
Legal - Canterbury, Brighton or Guildford
Salary: £48,576 - £61,660
Closing date: 23 April 2019
Crown Prosecutor - CPS South East (10 posts)
Legal - Canterbury, Brighton or Guildford
Salary: £40,000 - £44,000
Closing date: 23 April 2019
Senior Crown Prosecutor - CPS North East (1 post)
Legal - Newcastle or Middlesborough
Salary: £46,228 - £54,789
Closing date: 23 April 2019
Crown Prosecutor - CPS North East (1 post)
Legal - Newcastle or Middlesborough
Salary: £38,00 - £42,000
Closing date: 23 April 2019
Senior Crown Prosecutor - CPS London (12 posts)
Legal - London
Salary: £48,576 - £61,660 + £3,150 RRA
Closing date: 23 April 2019
Crown Prosecutor - CPS London (12 posts)
Legal - London
Salary: £40,000 - £44,000 + £3,150 RRA
Closing date: 23 April 2019
Senior Crown Prosecutor - CPS East Midlands (1 post)
Legal - Leicester or Nottingham
Salary: £46,228 - £54,789
Closing date: 23 April 2019
Crown Prosecutor - CPS East Midlands (1 post)
Legal - Leicester or Nottingham
Salary: £38,00 - £42,000
Closing date: 23 April 2019
Senior Crown Prosecutor - CPS East of England (9 posts)
Legal - Chelmsford or Norwich
Salary: £38,000 - £42,000 (Norwich)/£48,576 - £61,660 (Chelmsford)
Closing date: 23 April 2019
Crown Prosecutor - CPS East of England (9 posts)
Legal - Chelmsford or Norwich
Salary: £46,228 - £54,789 (Norwich)/£40,000 - £44,000 (Chelmsford)
Closing date: 23 April 2019